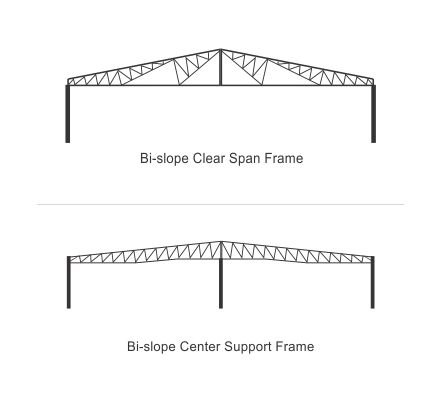 By far the most economical and flexible, the Double Sloping Truss & Column system has been used to build major industrial buildings all over the world.
Naturally, we at Cold Steel, have been evolving more and more practical, durable, good-looking and yet economical industrial buildings by leveraging the combination of the ever dependable FINK/ N trusses and wide flange or H section steel columns.
By using high efficiency Cold Formed Top Hat Section For Trusses and Z-sections for Purlins, we offer a full range of steel buildings.
Bi-slope with center support



Clear Spans=Upto 100 Mtrs
Eave Height=Upto 28 Mtrs
Column Spacing=Upto 24 Mtrs
Bi-slope with center support



Clear Spans=Upto 100 Mtrs
Eave Height=Upto 28 Mtrs
Column Spacing=Upto 24 Mtrs
---